The Escapers guide to packing
You've booked your tickets, the kids are super excited, but what on earth do you pack? Fear not, we are here to offer some tips on what the intrepid Escaper needs for a weekend of adventure.
Sleeping
If you have a camping ticket then you need to bring your own tent, plus all bedding, sleeping bags, blankets, tent pegs and cuddly toys. If you have gone for a glamping option then bedding is included, but it never hurts to bring an extra blanket in case of an unseasonal, chilly night.
Other gear
We recommend you bring a good selection of clothes, particularly things that can be
layered, to allow for whatever the great British weather decides to throw at us. It can get muddy on the farm, particularly when you're searching for shield beetles in the woods, so dry changes of clothes are essential for the happy Escaper. If you would like to try out the yoga classes on offer then loose clothing is advised and an extra towel or mat might be useful too.
Other things you might like to pack include:
Wellies, walking boots, waterproofs, towels and toiletries, swimwear, first aid kit, insect repellent, sunscreen, sun hat, torch, camera, cool box and cooking equipment.
Fun additions:
Outdoor games, bug books, magnifying glass and binoculars. Dressing up gear for Saturday night. This year's theme is farmyard animals, cow costumes at the ready, there will be prizes!
Grub's up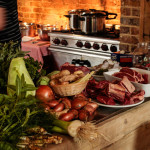 The hungry Escaper needs to be well fed after all that adventuring. Friday night's BBQ is included in the ticket price (for both campers and clampers). On Saturday there will be a selection of local suppliers selling delicious food throughout the day. All other meals are to be supplied by yourselves. BBQs will be available for use throughout the weekend and there will be a tuck shop on site selling sweet treats from Saturday. There will be limited fridge space available for use over the weekend, we simply ask that you consider your fellow Escapers and don't hog the whole fridge.  Tea and coffee will be available for free over the weekend as will squash and water. There will be a bar selling local ale and wine throughout the weekend.
Please be aware that there are NO cash facilities on site, please bring cash with you.
When to arrive
The weekend runs from 1pm on Friday 3rd August until 3pm on Sunday 5th August 2018. Please make sure you are on site, ideally with tents erected, by 4pm on Friday 3rd when there will be an introduction to the weekend and you'll get to meet your fellow Escapers. We will then serve a delicious BBQ for all Escapers.
Any questions?
Not sure of something, just drop us a line through our contact page and we'll hopefully be able to answer any questions.
Top of the Essentials list is a sense of fun, leave stresses at the gate, it's time to Escape.