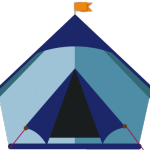 Camping tickets include camping pitch, all the walks, talks activities and events over the weekend, Friday evening BBQ, Saturday barn party (food not included) and a session with Axe & Paddle bush crafts for each junior Escaper (guaranteed for the first 50 child weekend tickets booked).
Tickets for ETTC 2018 go on sale in March 2018, only on this website. BOOK HERE
Child tickets are £45 (£40 early bird)
Adult tickets are £75 (£75 early bird)
Infants 3 years and under are free but need to be registered.
Love the idea of Escape to the Countryside but hate the idea of pitching your own tent? Then check out the glamping ticket packages we have on offer for the weekend.
Fancy Escaping for just a day? Tickets for Saturday Spectacular on 4th August go on sale on 3rd June, only from this website. All tickets must be bought in advance.
Check out our essentials page to find out what to pack for your escape.